As one of the most popular destinations for property investment, the Bangkok property market is seeing stable demand from foreign investors. While Thonglor is often seen as Bangkok's popular haunt, property price trends in the area have surged drastically over the years from THB120 – 150,000 sqm to more than THB 250,000 psm for some of the top projects. The increasing property prices in Thonglor has caused many property investors and tenants to lay their eyes elsewhere.
Ekkamai, Thonglor's sister neighborhood, is possibly the biggest beneficiary of this spillover effect. In fact, property investors who have done some in-depth research, are referring to Ekkamai as the "most underrated investment hotspot".
Just one BTS stop away from uptown Thonglor, Ekkamai sits in a central location with everything within reach. At an average price of THB180,000psm to THB 200,000psm, homes in Ekkamai has managed to maintain highly competitive prices compared Thonglor. With Ekkamai's strategic location and cheaper apartments, rental yields and potential capital gains are comparatively more compelling for investors.
Set back by the increasing rental prices, the CBD's young professionals and expats are also moving out from Thonglor to Ekkamai. As compared to the densely populated Thonglor, Ekkamai is home to a good mix of lifestyle boutiques, classy malls, cafes and entertainment. offering convenience and lifestyle to the younger generation of tenants.
Gateway Ekkamai, one of the most popular family malls in Bangkok, hosts a large number of Japanese restaurants and shops and is one of the most visited malls among expats. Locals on the other hand, frequently visit Major Cineplex and Big C Supermarket for a weekend movie or some value-for-money bargains.
Expats especially are attracted to the residential spaces in Ekkamai given the proximity to some of the best and most demanded international schools in Bangkok:
Ekkamai International School
St Andrews International School
Wells International School Bangkok
Bangkok Prep International School
Amongst the large expat population in Bangkok, Ekkamai in particular sees strong rental demand from the Japanese community, due to its proximity to the Thai-Japanese School, and the large Community Retail Mall, Habito, which hosts numerous coveted Japanese brands that are tailored to the burgeoning Japanese population in Bangkok.
Ekkamai's convenient location coupled with the diverse amenities in the vicinity blends perfectly into the lifestyle of Bangkok's diverse pool of young professionals and expats. These millennials prefer having everything within arm's reach. They have a strong eye for design and want their homes to be a good balance of functionality, aesthetic and practicality.
Sansiri, one of the largest developers in Thailand understands the behaviour and wants of Bangkok's millenial tenants and recognizes the need to build more homes that cater to the unique lifestyle of these millennials. These homes are designed to provide them with accessibility, convenience as well as flexibility and are linked up with Smart Devices that allows them to control everything from their home security to their washing machines solely with their phones. Free wi-fi, as well as virtual reality gyms, are also part of the vision to provide a more connected lifestyle.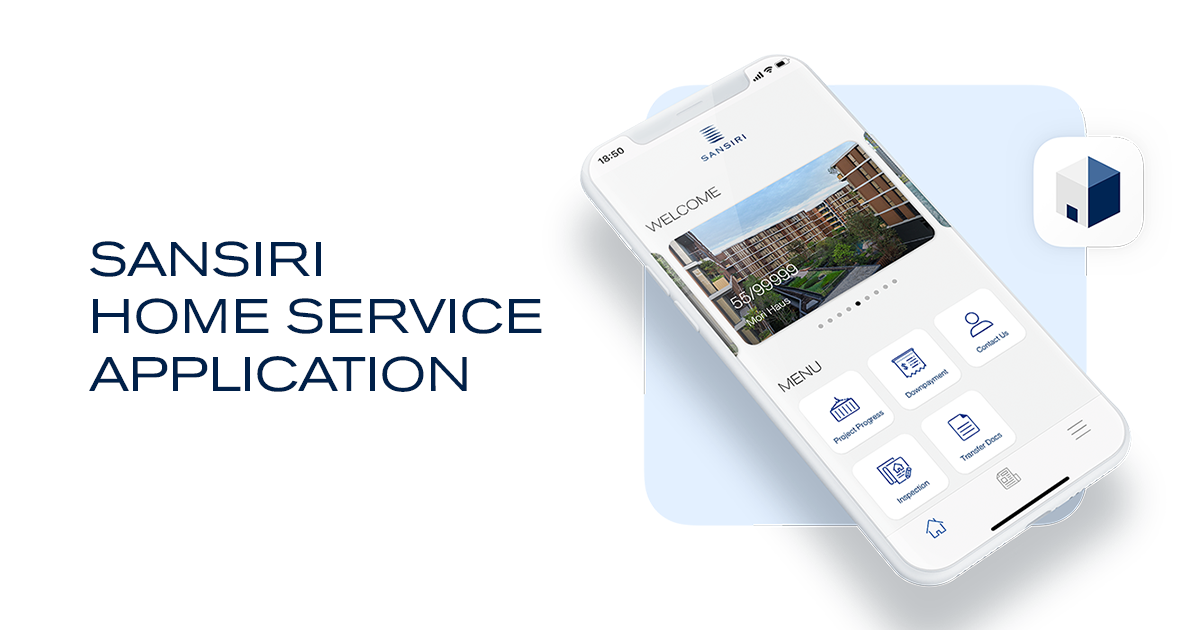 Staying way ahead of its competitors, Sansiri has recently launched the First Residential Delivery Bot in the whole of Asia, known as SAN:DEE. The AI delivery bot is able to access the lift via WiFi and navigate itself through the residential units. Built with sensors around the body, SAN:DEE can also avoid obstacles, preventing unnecessary collisions.
Riding on the trend of remote working, the co-working spaces within Sansiri's projects provide young professionals with the flexibility to work independently, encouraging creativity and productivity.
Apart from the advanced and thoughtful facilities, property investors often highlight the full-fledged property management service as the top reason why Sansiri projects are popular among the investor community. From real estate brokerage services to project sales management, Sansiri offers home buyers the most all-rounded after-sale services to reduce any hassle for its homeowners.
Sansiri also has a partnership with Hostmaker, a London-based upmarket Airbnb management service, to help turn your property into an ideal holiday rental home. From interior design to pricing review to housekeeping and 24-hours key exchange, Sansiri and Hostmaker take care of every aspect of your rental property, providing ultimate convenience for both investors and renters.
And here's a good news for all Singapore and Malaysia investors! This July, the leading Thai developer will be bringing to Singapore and Malaysia its latest residential development in Ekkamai. The new project will host all of the above smart technology and amenities in one comprehensive luxury condominium. Click on the link below to register your interest and get exclusive updates on the project's launch – you would not want to miss it!