End March this year, leading Thai developer, Sansiri is bringing to Singapore their landmark HAUS Series Developments.
Each of Sansiri's HAUS Developments is unique in its own way. kawa HAUS being Bangkok's first ever dedicated Japanese residential community and taka HAUS being a trendy and yet serene residence in Bangkok's hipster neighborhood, Ekkamai.
Featuring oka HAUS
oka HAUS is the very first high rise development of the HAUS series, and is widely expected to garner the same success that we have seen with Mori HAUS and taka HAUS. We saw locals and foreigners weather the rain and queue for hours just to get their hands on a HAUS unit.
To understand why people were willing to brave the rain just to get hold of this project, we decided to dig deeper and analyze it ourselves:
Now, oka Haus is a a 47-stories freehold condominium residence that rises tall to bestow a glorious view of the Chao Phraya River.
Imagine returning home each day to a killer view like this? I certainly wouldn't mind that.
Let's talk about location
oka Haus is within the Sukhumvit 36 area but is actually accessible from a major boulevard, Rama IV Road. A simple Google Search on Rama IV Road unveiled a long list of articles referring to it as the new "hotspot of Sukhumvit". According to a report by The Nation, investments worth Bt100bn (Approximately MYR 13 Billion) are being pumped into Rama IV
Being on Rama IV Road, does position oka Haus well to benefit from this major transformation.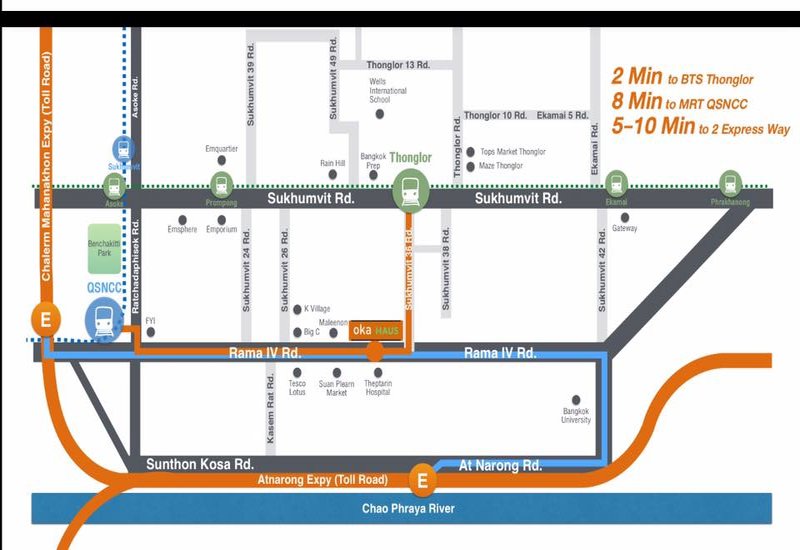 In terms of accessibility, oka Haus is just 1.2km to Thonglor BTS (with in-house shuttle service to BTS). I tend to think of Thonglor as the "Orchard Road" of Singapore where upper society tend to hang out at. This is also where all the top cafes and restaurants are.
Beyond that, you would also be within close proximity to at least 4 medical institutions and 6 international education academies such as Bangkok Prep International School. More importantly, oka Haus is close to at least 9 landmark commercial buildings and towers that will include hotels, residences, retail. That means, on top of the 26,000 white collar workers, we can expect another 95,000 more from till 2021. This is a good thing from a rental perspective.
Next, let's talk about design
Sansiri has been successful in attracting buyers from all over the globe and one of the reasons why the HAUS series has done so well is because Sansiri invests in designing a home that makes you the envy of many.
Pictures speak louder than words….
Smart home? Sure
One unique feature of Sansiri's HAUS series is their impressive facilities coupled with smart home technologies. Just this year, Sansiri announced their plan to launch new Thai voice-enabled smart assistant for their Sansiri Home Service property management mobile app.
Coupled with Amazon's AI solutions, the intelligent mobile application would allow home owners to manage all home-related activities with greater convenience anytime, anywhere and with high security.
Here's a video on how it works:
From an investment perspective…
I do think that oka Haus will attract strong interest and demand from many international buyers.
Common questions will include – Who can I rent it to? Is there potential for capital gains?
Here, you really ought to do some research on Rama IV and the Sukhumvit neighbourhood to better understand the accelerated growth in this area and the true catalyst behind this growth.
End March this year, Sansiri will be bring to Singapore it's entire HAUS Series projects. For those interested, you can register your attendance for the event at the bottom of the page. And if you wish to read more, here's the link to the Property Website where there's more info on the project and the event.